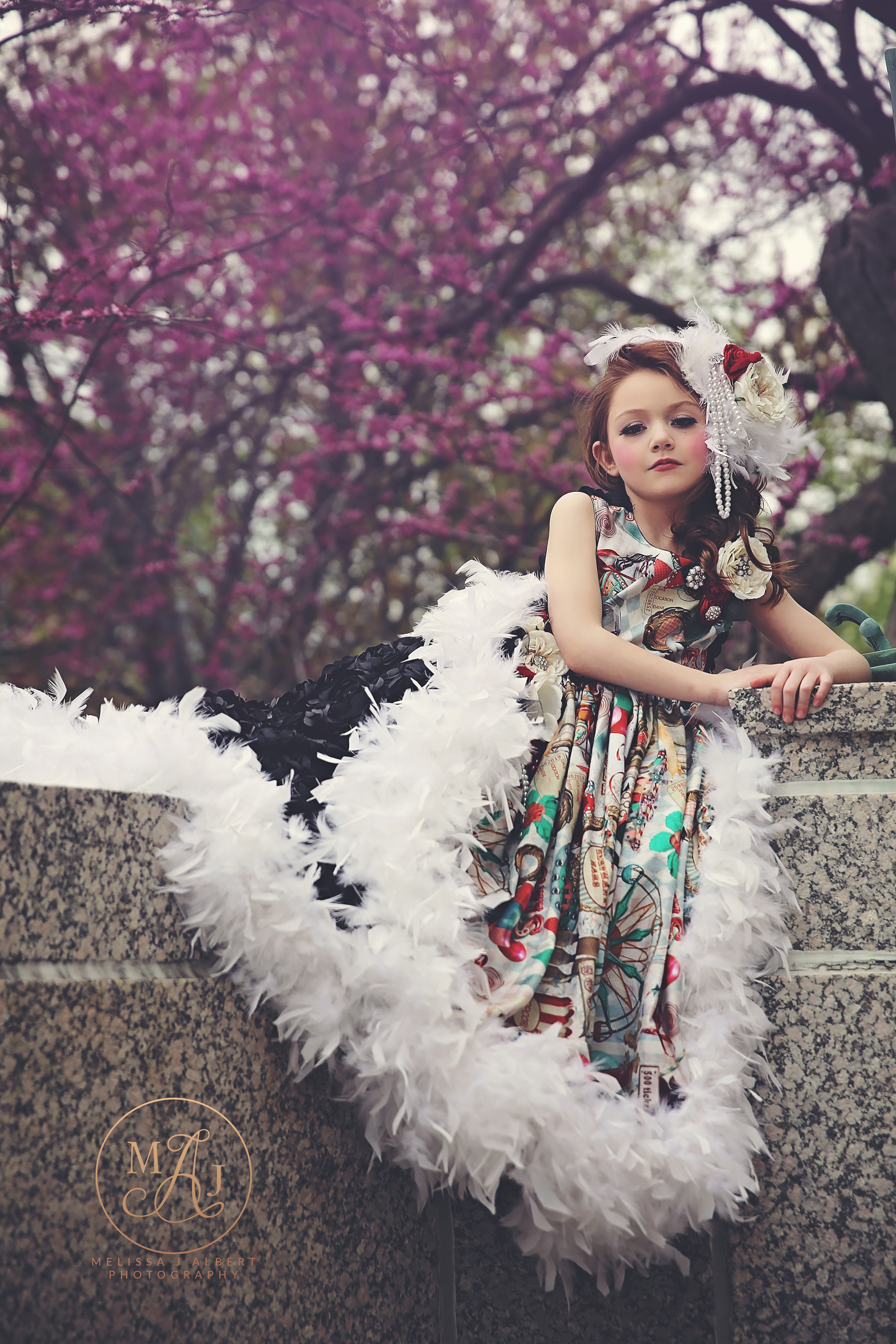 Circus Mistress
I cannot believe that it has been almost a solid 4 years since I first attended Shutterfest (shutterfest is a photography conference in St. Louis) wow how time flies by so quickly.  How I am looking forward to returning this year and the dreams that I am bringing with me to create.  And let's not forget the education that I will bring back with me.  
You may recognize the young girl who is a tween brand model for my studio, her name is Addie.  I will never forget the crazy week it took for her mum and I to bring this dream shoot to life.  Creating the pattern, finding the vintage circus fabric and ordering it from the UK was a trip.  Then it was time to bring the construction to life.  I spent hours cutting, sewing, fluffing the skirts and then there was the task of hand sewing the feathers onto the hem of the circus gown.  The headpiece was a headband that I purchased at the craft store, I added feathers and flowers with rhinestones. It was the perfect accessory to the ensemble. I packed it in the vacuum sealed bags with the other gowns and it began its journey to St. Louis.  
 I knew for me I was beyond excited I did not think that anyone else would notice the dream styling never mind want to shoot it.  The morning before the first round of classes Colby (Addie's mum) and I curled her hair, created the face and put her in gown.  Then as I added the headpiece looking down at Addie and her adorable green eyes looking up at me I could not help but feel this overwhelming joy fill my heart.  She slipped her delicate little feet into black flats and away we went.  
We got onto the elevator, now imagine this little gal gorgeous red hair the color of a ginger snap and freckles who was about 4 feet high in a dress that filled the elevator with feathers.  As I pressed the button to go down to the first floor I could hear her swishing the black taffeta skirt.  She was giggling as I looked back to find myself laughing as well.  The elevator doors opened and Addie stepped out leading the way down the midway towards the exit doors.   As I walked past the hundreds (I am not kidding when I say there were hundreds of people modeling, creating and helping other photographers) of people I watched as they stopped to see her parade her circus look through the center walkway.  There were gasps, others were saying, " Oh my god look at her!" and to see her smile as she was listening.  She beamed so brightly. 
I had other photographers join us as we began to photograph Miss Addie on the wall of the St. Louis post office stairs.  The beautiful tree of purple flowers blooming and the hustle and bustle of the traffic lights.  It was by far one of my favorite days.  I got to celebrate one of my clients and share her with the world.  Now I am preparing to bring siblings and a Mother with me this year.   I know that it will yet again bring forth another amazing memory for me and create a new one for them.   Until then I will just set this portrait below as it is the final fine art portrait from 2015 Shutterfest creative.  
Creatively,
Melissa